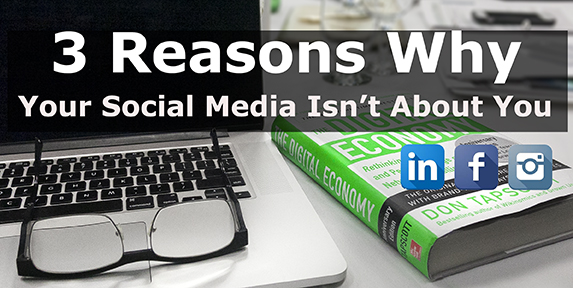 So much of the social media content seen today portrays the publisher's company. It paints a great picture of what a plucky band of experts they offer and the cool space they inhabit.  There's bad news about that. Unless you are a competitor trying to mine information, the investment in social media that created that content is largely wasted. Here are three reasons why:
Customers will simply tune it out social media that isn't about their interests and the passions. Customers are interested in the things they need to enrich their businesses and their personal lives not the companies that sell them.  Ever meet a workout enthusiast who didn't enjoy articles about their health and fitness?  Would they want to see repeated stories about the company that manages their gym?
 Your company just isn't as inherently interesting to others as it is to you.
 Customers will simply tune it out social media that isn't about their interests and the passions.
It's not that you can't or shouldn't feature your organization or its products but if and when you do it has to be a part of a healthy and effective mix.  In Social Media Marketing, where the bulk of your marketing will be done in the social media spaces themselves, it is essential to have some purely commercial posts. But only some.  In Content Marketing where your social media is driving customers to great landing pages on your website it's less important, but in both cases your viewers will only stick with your content if you keep it engaging for them.
Chances are you already know who your customers are and have identified the things that are important to them.  Create a content strategy that uses pictures, stories, and information they want to read or view.  Curate more of the same kind that you find online and republish it with appropriate attribution to the authors. Those tactics will make followers of viewers and keep them wanting more.
The same information about the personas that helped you create the content will help target your paid and boosted posts and build followers who will  engage with your content and eventually buy your product or service.
Here is a simple test. Read your social posts and see if most of them have the scent of advertising.  If they do, the likely aren't working the way you hoped they would.