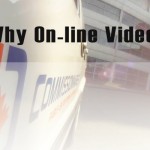 Admit it!  If you clicked on the play button on our image display on the home page, you expected, in fact you wanted, a video.  That's because it works!
If like most businesses yours is working to build awareness and interest in your organization's products and/or services, you have to look at how vital the use of video has become.
Online video is almost everywhere and there is hard evidence for why that trend is growing each and every year. There is solid evidence that online video is gaining strength as a source for content marketing. A recent report on business-to-business marketing techniques undertaken by Software Advice shows how important online video has become to marketers. Their B2B Demand Generation Benchmark Survey for 2012 investigated the use of various content in online marketing and in part of the study they ranked them by the percentage of each that was used by respondents.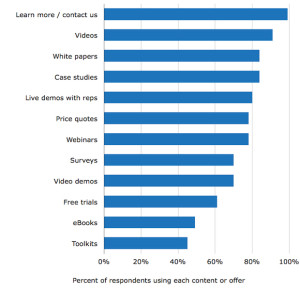 Its clear the majority of respondents favoured the use of video over the next highest rated techniques. If marketing your products and/or services are critical to your organization you have to make video a priority.
That people favour video shouldn't come as a surprise. YouTube is the second most popular search engine in the world. Behind that statistic is some real science about how viewers are connecting with the video they watch.
Dr. Susan Weinschenk, is a well known author, speaker and consultant in the field of the psychology of customers and what motivates them. She speaks of the four main reasons people are drawn to video:
The fusiform face area of the brain is hard wired to pay attention to faces. We rely on faces for the believability and the value of information.
There is rich information conveyed by the human voice speaking to us and our brains value the spoken content.
Emotions are contagious. We often take that for granted, but it's a powerful effect that is built on by the person's body language. People are social animals and we are hooked on our interactions with others.
Things that are moving capture our attention. Most of us are far removed from hunter-gatherers but for most of human evolution, the things that moved either fed us or attacked us. Movement matters to our brains.
The takeaway in all this is simple. Video works and you ignore the appropriate cost effective use of it at your organization's peril. After all, if your customers are online in your business space, and they are not reading the content on your website, what ARE they doing?